The chances are great that you have never been to Laos. It is the only landlocked country in the Southeast Asia which is bordered by Vietnam, Thailand, Cambodia, Myanmar and China. While being still "off the beaten track," Laos offers a lot for more adventurous people.
Why to Go to Laos?
Lacking the sea and tropical beaches, Laos attracts much fewer tourists than the neighboring countries. Yet, on my various trips I met a number of fellow travelers who praised Laos' amazing and varied landscapes, boat trips on the legendary Mekong river, Buddhist sites, exceptional food, and – most importantly – culturally diverse but universally hospitable people. And so, in December of 2022, I decided to check it out for myself.
Let me share with you a few facts the history and culture of Laos so that you would better understand the local context. But if not interested, then simply skip this section and move forward.
Laos traces its history to the kingdom of Lan Xang which existed during 13th-18th centuries and was one of the largest states in Southeast Asia. Eventually, Lan Xang broke into three separate kingdoms – Luang Phrabang, Vientiane, Champasak – and in 1893 all three came under a French rule becoming France's "protectorate" and being united into what is now Laos. Apparently France had little interest in Laos and invested little in its economy or culture. Rather it simply kept the political control because the territory of Laos was a gateway to entire French Indochina Laos gained autonomy in 1949 and full independence in 1953 becoming a constitutional monarchy under king Sisavang Vong. Almost immediately, a civil war began between Communist resistance movement supported by the Soviet Union and the monarchy which, in turn, was backed by the United States.
During the Vietnam War, the territory of Laos was used by the Northern Vietnam and Viet Kong guerilla fighting against Americans as a place to hide, re-group and keep their supplies. In pursuit of Viet Kong, from 1964-1973, the US Air Forces made more than 580,000 sorties and dropped more than 2.5 Million tons of bombs on Laos – equal to plane-load of bombs every eight minutes – making Laos the most heavily bombed country per capita in human history. If interested, here is an excellent story called Living on Bombs which depicts the impact of this long-ago bombing on today's life in Laos.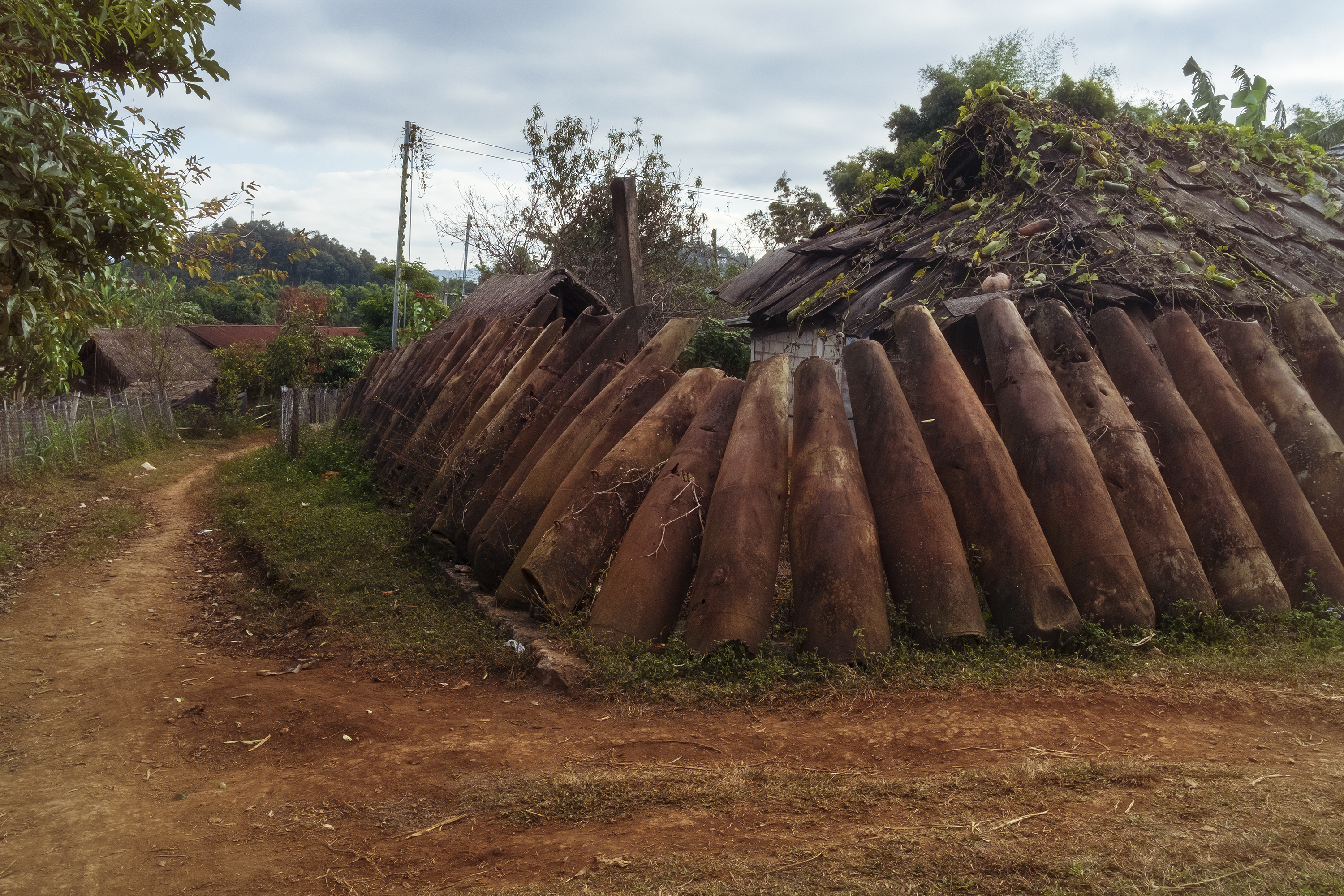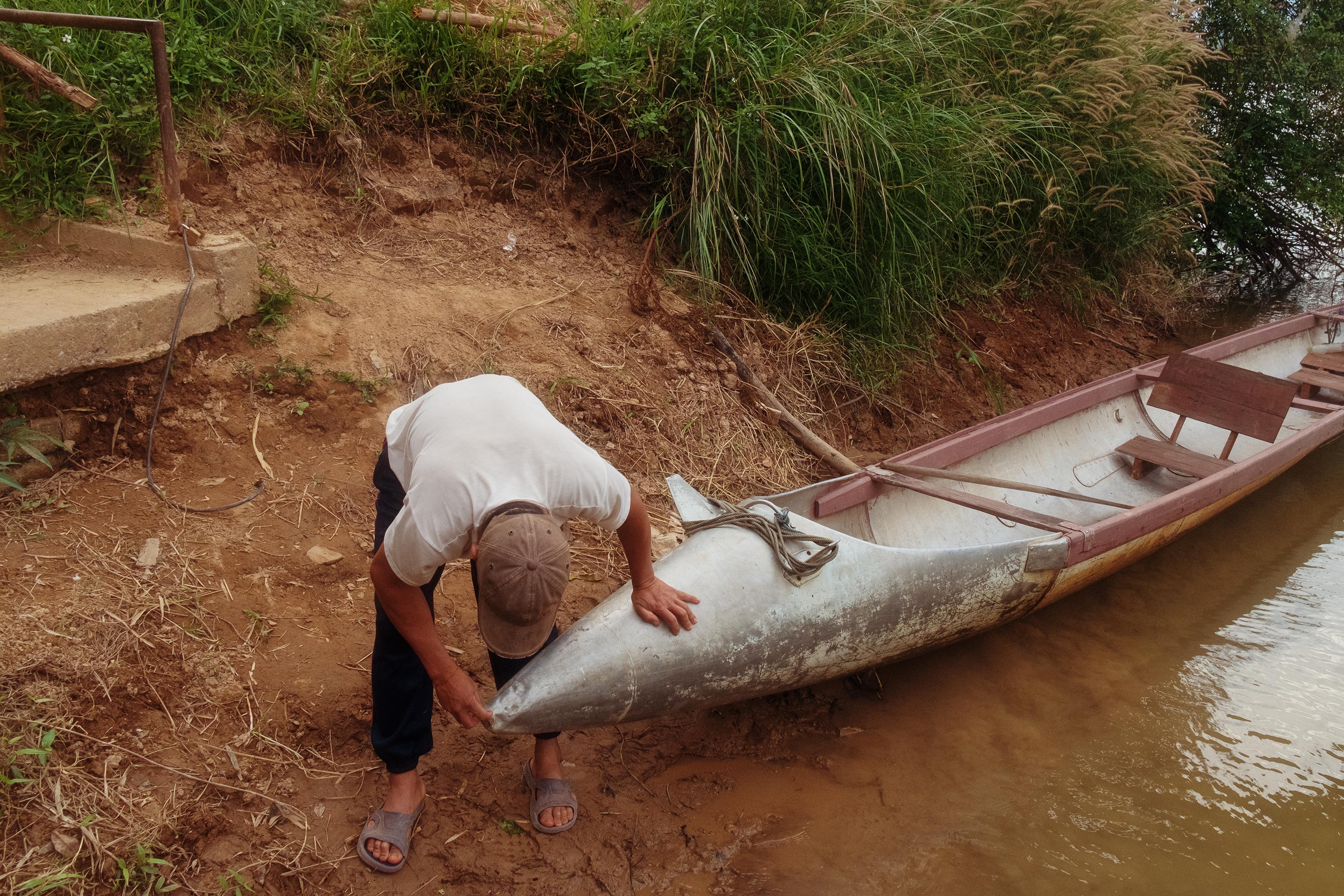 After the war, in 1975, the Communist party (Pathet Lao) came to power with military and economic aid from the Soviet Union. Until today, Laos remains one of the world's few Socialist states openly endorsing Communism. The only legal political party is the Lao People's Revolutionary Party. What has changed though is the "big brother:" instead of former Soviet Union, China has now huge political influence on Laos and controls the bulk of Laos properties and economy.
Presently, the major trade-asset of Laos economy are…its waters. When traveling in Laos, you will see beautiful lakes and rivers everywhere, but the country's plentiful water resources and mountainous terrain also enable it to produce and export large quantities of hydroelectric energy to the neighboring states.
Stretching for about 650 miles (1,050 km) from northwest to southeast, Laos roughly consists of three geographical areas: north, central, and south. These three zones coincide roughly with three different landscapes: forested mountains, upland plateaus/foothills and lowland plains.
Various ethnic groups living in Laos are also often categorized by their distribution by elevation: lowlands, foothills and mountains. The principal inhabitants of the lowlands are ethnic Lao. They constitute more than half of the country population and are the politically and culturally dominant people of Laos. They belong to the Thai linguistic group and migrated to the present day Laos from China in the first millennium CE.
In the central parts live the mid-slope Laotians collectively known as Lao Theung. They constitute about 30% of country's population with Khmu people being the largest group among them. They belong to Mon-Khmer linguistic group and were the indigenous inhabitants of present-day Laos.
Finally, the highland Laotians are known as Lao Soung and account for about 10% of the population. They include a variety of minority cultures and tribes who lived historically in cultural isolation in these most remote and difficult to access regions of Laos. Among them, most known are the Hmong. That is for political reason as they were accused of supporting US troops during the war in Vietnam and were later heavily persecuted by the Communist government of Laos.
The bottom line is that being a relatively small country, Laos yet offers travelers a great diversity of experiences: both in terms of its nature, landscapes and local cultures.
First Thing First: How to Get into Laos
In order to travel in Laos, citizens of most countries need a visa which could be obtained upon arrival in the country. However, this procedure can take a while, especially, when the que of people is long: the Laotian border guards and immigration service are not very efficient. My strong recommendation is to get an e-visa in advance online. Here is the link to application portal (you need to apply at least 5 days prior to planned arrival).
How exactly you will arrive into Laos depends, of course, on where you are coming from. Traveling from San Francisco, I found it much cheaper to fly into Bangkok, the capital of neighboring Thailand, rather than in Vientiane, the capital of Laos. From Bangkok, several air companies operate short (about one hour) flights to Laos with arrival to several Laotian cities: Vientiane, Luang Prabang and Pakse. The tickets for those flights are quite affordable (around $ 100), and if you are in a hurry, this is the way to go.
But I have chosen a more adventurous – and in my view more pleasant – option: traveling overland by the train. Several long-distance trains leave Bangkok daily with final destination in Nong Khai which is a border railway station in Thailand. Full information on these trains, their schedules, prices, how to purchase tickets, and what the borders crossing procedures are can be found HERE. My choice was an overnight train #25 with comfortable sleeping cars. It leaves Bangkok at around 20.00 (8 PM) and arrives to Nong Khai at 6.30 in the morning. The price for a second class car (first class was sold out) was something like $ 30
There is nothing special about Nong Khai border railway station (the final destination of #25 train) except that it has a couple of interesting exhibition rooms (don't ask me why) devoted to the Thai royal family.
The borders separating Thailand and Laos at Nong Khai are along Mekong river. The so-called "Friendship bridge" connects both sides and serves as a border crossing point. When you arrive to Nong Khai, you will be approached by the numerous motor-rikshaws offering their services to take you across the bridge and even help with immigration procedures. Don't, because there is a cheaper, more efficient and pleasant way to cross the bridge: to take another, old rickety train.
The whole ride across the bridge is only about 20 minutes, but it is quite pleasant: sitting by the open window and absorbing the scenery.
The border station on the Laos side is called Thanaleng, and this is the place where you will go through all borders crossing formalities. Thanaleng is only about 20 km / 12 miles away from the Laos capital, Vientiane. Again, the chances are great that either local taxi drivers or motor-rikshaws would expect the train from Thailand and offer their services to take you to Vientiane. My advice is to not use them, but, instead, download the App which is called "Loca" and which is essentially a ride-share App for Laos (similar to Uber). Clearly, you need to have access to Internet on your phone in order to use it, but if you do, I found Loca drivers being very efficient and their prices (which you know in advance) very inexpensive. You can pay both by cash or connect your credit card to Loca App. And similarly to Uber, you can schedule a pick-up from a certain point in advance. I did it a day before and my driver was already waiting at Thanaleng station.
My destination was not Vientiane itself (not much to see there), but the Southern Bus station which is ironically situated on the northern outskirts of Vientiane but offers long-distance bus services to the southern part of the country.
First Destination in Laos: the Kong Lor Cave and Spring River Resort
Essentially, there are three ways to travel long-distance in Laos: by plane, train, and inter-city bus. All these options are inexpensive by European or American standards. Planes and trains are faster and more comfortable, but they connect very limited number of destinations. If you travel extensively in Laos (and unless you rent a car), you probably will take buses quite often. The bus companies vary considerably in the comfort, the speed and the chances of being on schedule. When you are already in Laos, best thing to do is to ask your guesthouse or hotel about various options, schedules and help to purchase the tickets. But if you need to buy bus tickets for Laos in advance from your home country, I suggest the online agency which is called 12GoAsia. They offer tickets for variety of transportation options (planes, trains, buses, minivans) and for a number of Southeast Asian countries, including Laos.
Anyway, when I arrived to Southern bus station, I had already my ticket for Kong Lor, the first destination in Laos. I also had some time before bus departure and went to a huge market which is right next to the bus station. Wow! It was an impressive selection of meats, seafoods, fruits, vegetables, and prepared foods.
The bus ride from Vientiane to Kong Lor (which is famous for its huge underground cave system) takes about 8 hours with a few stops for food and restrooms. The bus was pretty full, and most luggage was placed on the top and secured by the ropes.
There are a few guesthouses in Kong Lor itself, but my choice was different: I stayed in the Spring River Resort. It is about 2.5 km / 1.5 miles away from the village, situated in the lush tropical forest, on the bank of the river with the gorgeous view of the surrounding mountains.
The bungalows at Spring River Resort are simple (with bathrooms and showers in a separate building), but they are charming in this simplicity, very clean and designed in a way which feels like being part of surrounding nature.
A significant factor in decision to stay at Spring River Resort were the reviews of travelers who praised its restaurant. And my first dinner was five-stars: both in terms of food flavors and presentation.
The next morning, having breakfast on restaurant's open terrace was almost like a meditative experience with full immersion into the nature and surrounding scenery.
The river at Spring River Resort goes straight to the Kong Lor underground caves. You can hire a boat which would take you "in style" to the caves. But I wanted to see the village of Kong Lor and also stretch legs after previous day spent on the bus. So, I started walking to the village, but then a group of young French folks on scooters and motorbikes catch up with me, stopped and asked if I want a ride to the cave. It sounded like a good opportunity to join them and to explore caves together and I said: "Yes, of course. Thank you!"
Now is time to explain why Laos is "motor-bikers' paradise." Somehow, it has become a very common practice to explore different parts of Laos by the scooters or small motor-bikes. That is, people go from one area of the country to another by plane or bus, but then rent a bike and travel locally for a few days on their own two-wheels. The rental services are abundant, prices very low (around $10 per day) and the bikes' quality good (mostly Japan made). Clearly, you cannot take much with you and are exposed to the weather and "outside elements," but the roads are decent and you have full freedom to explore the land at your convenience. Hence, being in Laos, I saw these motorized travelers everywhere: riding either solo or in sizeable groups.
In ten minutes, our "motorcade" arrived to a sandy bank of the river where the cave-guides were waiting for visitors.
So, what is it all about the Kong Lor Cave? Considered one of Southeast Asia's geological wonders, it is approximately 7 kilometers / 4.5 miles long, running straight through the massive limestone karst mountains which surround the countryside. Once inside, the height of the cave ceilings is up to 100 meters / 300 feet. The cave has impressive stalagmites and stalactites. But most importantly, the Nam Hin Bun River runs through the cave at a good speed and making sharp curves. Hence, it is not only about visiting the cave, but also about taking an adrenaline-inducing ride on a boat which is artfully piloted through the cave by one of the local guides. We first walked along the river to the place where it enters the mountain.
Then, a little bit more of hiking inside the cave.
And then we arrived to the "harbor" where the boats were anchored.
The cave is not lit and the boat journey goes in nearly full darkness except the headlamps of the guides and tourists. In the middle of the cave, there is an option to get on the shore and walk around stalagmites and stalactites. This small part of the cave is illuminated by electrical lamps.
Approaching the other side and exit from the cave, we had a little unplanned adventure. The water level was low, and the river run dangerously through the stony rapids. We got out of the boats and drugged them through this portion of the cave.
I enjoyed the ride immensely, but it also felt good to be on the other side of the mountain and under the bright sunshine.
After a small break, sunbathing and beer drinking, we went back through the cave arriving safely to our starting point. The French fellows invited me to join them for some "post-cave party," but the day and scenery were gorgeous and I decided to walk a little bit and explore the area. Back in Kong Lor village, I stumbled upon what was called "The Best One Restaurant." It looked both humble and appealing, with tables set on numerous wooden bridges protruding in all directions. The effect of sitting there was like being in the middle of the field.
I ordered a glass of wine (being in a former French colony, it is relatively easy to find wine in a local restaurant) and Pad Thai. I do not know if indeed it was the really "Best One" restaurant, but the Pad Thai was outstanding.
The next day, I decided to go on a day kayak trip. This is an "easy and lazy," yet very enjoyable option to spend time at Spring River. The resort offers kayaks, you paddle downstream (easy!), and then the resort arranges a truck to pick you up and bring back together with the kayak. On a sunny day, like I had, there is nothing better to do. The river is narrow and the scenery on the both banks is very close and well visible.
Occasionally I saw huge buffaloes lying in the water and hiding there from too much sun.
I also passed a few villages
Small children from these villages were playing in the boats and splashing in the river.
In couple of hours, I felt like being fully part of the river and was ready to continue my slow ride forever.
But then, unfortunately, the sign on the bank of the river indicated that my journey came to its end.
The truck was waiting and took me back to the Spring River Resort in no time. There was still plenty of time until the darkness. Wandering through the grounds of the resort, I found something what looked like a water tower. I climbed on top of it and enjoyed the view of the resort and its surroundings.
My last dinner at the Spring River Resort was another visit to the "culinary paradise."
Big THANKS goes to my hosts and owners of the Spring River Resort: Thomas and Vicky. Thomas is an expat from Switzerland, while his cheerful wife, Vicky, is a native of Thailand. In the middle of tropical forest, they managed to create a place which offers a European-level comfort, cleanness and service. Most importantly, Thomas and Vicky do they best to help local villagers to get some income by employing them or by offering their services to the guests of the resort. If you decide to stay at Spring River Resort, you will find it on Booking.com or you can communicate with resort directly via website http://www.springriverresort.com
When I woke up early next morning, being ready for the next adventure, Vicky came to say "Good Bye" and gave me a bag with freshly baked cookies. This small food supply turned out be very useful on this day, as it was a day of very long ride: first to the city of Pakse and then to the Four Thousand Islands. But this is already another story.
Pakse and Four Thousand Islands
After couple days at Kong Lor and Spring River Resort, the next destination was Four Thousands Islands (or Si Phan Don in Lao language). Four Thousands Islands is an area in the very southern part of Laos, on the borders with Cambodia, where Mekong river widens and splits into many channels, thus forming an archipelago of numerous ("four thousands") islands.
Picturesque waterfalls and rapids created by the river between these islands is a main attraction for the visitors to Four Thousands Islands. But not only this. It is also a good place to enjoy the boat rides on Mekong (especially, by the time of sunset), to rent a bicycle and tour the islands (they are flat and some are interconnected by bridges). Lately, many guesthouses were built here (especially, on Don Det and Don Khon) and the area is now increasingly known as a good party destination. Pakse is the closest of the bigger cities to the area, and the transfers to a particular destination or guesthouse on Four Thousand Islands are typically arranged by the tour agencies or guesthouses in Pakse. Pakse has an airport, but for me, traveling out of remote Kong Lor village, flying was not an option. Rather, from Kong Lor, I took a three-hours long ride on a back of a huge truck to the regional center, the city of Thakhek.
In Thakhek, I changed for a more comfortable (but still full up to capacity) bus and traveled another 7-8 hours to Pakse. My transfer to Four Thousands Islands was arranged for the next morning, and I stayed a night in Pakse in the guesthouse called Nangnoi Guesthouse. I highly recommend this place: very quiet location but right in the city center, clean and comfortable rooms (some with hot showers and air-conditioning). And they have both private and dormitory style accommodations.
But the greatest advantage of staying in Nangnoi Guesthouse is its owner: Bouthong. He and his wife not only provide excellent accommodations, but can efficiently arrange transfers, bus tickets for long-distance travels, help with car and motorbike rentals, give good advise on "how" and "what" to do in the area. In short, Nangnoi Guesthouse is a "one-stop" for everything in Pakse. If you decide to stay there, get in touch with Bouthong via WhatsUp: +856-20-96-707-470
I arrived to Pakse in the evening and was both hungry and tired. I also had plenty of Laotian food previous days and wanted something different. Very close to Nangnoi Guesthouse, there is a place called Dok Mai Lao Trattoria Italiana, an authentic Italian restaurant, with great selection of Italian dishes and wines. Also, while it does not look very appealing from the front door, it has beautifully decorated inner covered courtyard where most tables are.
This restaurant is run by an Italian expat, a fellow named Corrado. He is always present there and happy to chat with his numerous and diverse patrons. I stayed until the restaurant was closed and afterwards we had great conversation (and plenty more Italian wine) about realities of life in Laos.
The next day, minivan arranged by Bhoutong has taken me down South by Hwy 13 to an intersection with a road leading to the village called Khinak. From this intersection, a local motor-rikshaw brought me to the landing on Mekong river where a boat was waiting to go across the river to the island of Don Som and to my accommodations, the Don Som Riverside Guesthouse. Two more fellow travelers were on the same boat and going also to Don Som Riverside Guesthouse: Veronique and Pasqual from Switzerland.
Crossing powerful Mekong was an adventure on its own, and in about fifteen minutes the Don Som Riverside Guesthouse came into view.
Let me explain my choice of this island and this guesthouse. Vast majority of people coming to Four Thousands Islands are staying either on Don Det or Don Khon. They have a lot of guesthouses, restaurants, and are also a place where the "party action" is. But I wanted a quieter setting and more authentic experience of Laos. For this purpose Don Som island is an excellent choice. It has a few villages and is still mostly used for agricultural purposes. Don Som is lacking dramatic views of the rapids which attract visitors to Don Det and Don Khon, but I figured that I can always go there on a day trip, while staying overnight on pristine and undisturbed Don Som. Don Som Riverside Guesthouse is the only option to stay there, but it is a very special place.
The owners of the guesthouse are a couple: the Dutchman Sander and his wife, local girl, Tanoi. They met on Sander's trip to Laos, fell in love, married and decided to stay in Laos. They used Tanoi's family property, expanded it and created Don Som Riverside Guesthouse. Since its inception, the guesthouse welcomed curious travelers from all around the globe. I was attracted to this place by the enthusiastic reviews both on Google maps and on Booking.com and decided to check it out.
During my trip, Sander was back in Holland and Tanoi was "in charge." She teaches English in a school on the other side of Mekong and is typically away on weekdays coming back on weekends. In the meantime, her sister and the rest of family operate Guesthouse and they do it nicely. Despite the fact that the Guesthouse is small (just three bungalows) and in remote location, it offers visitors a nice selection of both European style and Laotian dishes. The food is cooked here "like at home for the family" and it is excellent.
The next day, I planned to visit the two main islands: Don Det and Don Khon. There are several options of getting there and one – the best, in my view – is to hire a private boat which would take you there and bring back in agreed upon time. Tanoi has a lot of contacts among the locals and this was arranged quickly. The ride on Mekong river from Don Som to Don Det takes about 40 min and the journey offers great views. Veronique decided to join and splitting the price (about $50 both ways) made the entire trip very affordable. Upon arrival to Don Det, we rented bicycles and explored both islands which are connected by the bridge.
There are several places on Don Det and Don Khon to see the rapids and – formed by the rapids – waterfalls, but in my opinion the most dramatic are Li Phi Somphamit waterfalls on Don Khon.
I was told that there is also a zipline which takes visitors on a ride above the waterfalls, but, unfortunately during my visit it was closed for reparation works.
The other attraction on Don Khon are the remains of the first railway in Laos, the Don Det–Don Khon narrow gauge railway It was built by the French in 1893 to bypass the Khone Phapheng Falls and enable vessels, freight, and passengers to travel along the Mekong River. The best place to learn about this – quite impressive and challenging – project is on the South of Don Khon, near the place called "Old French Port." A small open-air museum tells the full story of – not existing anymore – railway and offers a good insight into realities of the local life in the late 19th century.
Also, from Old French Port, one can enjoy the view of the neighboring Cambodia.
After a few hours of cycling under the sun, we were sweating and needed some nice break. Luckily, there a cool place on Don Khon, where one can relax and take a swim in Mekong river: Khongyai Beach.
And then we were hungry. Both Don Khon and, especially, Don Det have a lot of places to eat. But my hosts at Don Som Riverside Guesthouse recommended strongly one particular place: a guesthouse and restaurant called Mama Leuah (www.mamaleuah-dondet.com) owned by German expat named Lutz. The setting of Mama Leuah is very appealing with a nice river view, while the food (Laotian and German dishes) is diverse and very good.
It was time for the boat ride back to Don Som and our guesthouse. We scheduled the return so that we can enjoy the sunset while being on Mekong. And it worked out beautifully.
The next day was planned to be a "lazy day:" reading, talking and chilling out.
But, yet, one "adventure" was planned. I mentioned previously that the food served at the Don Som Riverside guesthouse is excellent. And this is for a good reason: Tanoi also offers professional classes of cooking Laotian dishes. The process begins from the visit (across the river) to the local market, selecting and purchasing all ingredients, step-by-step preparations, and, finally proper serving. One of the persons who stayed at the Guesthouse, was Karolina, a young lady from Poland. She was especially interested in learning more about foods of Laos and took cooking class with Tanoi.
The results of this cooking class were plentiful and very appealing
Needless to say that not only Karolina, but everyone at guesthouse has "benefited" from the outcomes of the cooking classes.
Karolina was leaving the same day and decided to use a public ferry to the mainland rather than ordering a private boat. Out of curiosity, we accompanied her. There is no particular schedule for the ferry between Don Som and Khinak village on the other side of Mekong. It goes back and forth depending on demands of passengers.
I stayed one more night and left next day, early in the morning. Tanoi arranged a boat ride, prepared strong coffee and came to say "Good bye!" I loved my time at Don Som Riverside Guesthouse and – unless you are looking for a party place – would recommend it to anyone. You can book it on Booking.com or via WhatsUp: +856-20-97-921-099
I took a truck which travels to Pakse couple times a day from Khinak village and was back in the city in the late morning. My flight to Vientiane, the capital of Laos, was later in the afternoon. There was plenty of time to visit again Trattoria Italiana and chat with Coronado and then enjoy a two-hour long massage. Spa offering massages (typically, one hour is only $10) are abundant in Laos, and Pakse was not an exception. My choice was the place called Pho Kham Massage and it did not disappoint. Then short ride to airport, and I was ready to say "Good Bye" to Pakse and Four Thousands Islands.
It is only about one hour flight to Vientiane, but it was already dark, when the plane approached the city.
I did not plan on exploring Vientiane (nothing interesting there). My sole purpose was to spend a night and catch next morning another plane to Luang Prabang, an old capital of Laos. But there is always place for a surprise. On Booking.com, I found accommodations called Sunset Mekong Apartments. The reviews were very good, the price right, and location convenient – close to the airport. Using again the Loca ride-share App, from Vientiane airport, I was there in the matter of minutes. The place did not disappoint. The apartment was sparkling clean and comfortable.
The apartments also had a balcony with a nice view on Mekong river.
The surprise came, when I went out in search of some place to eat. Right next to apartments, there was a restaurant called "Moon the Night." It was an all-included buffet-style seafood place with one interesting caveat: a huge variety of fish and shell-fish was offered to patrons uncooked along with cooking equipment (electric grill, oil cooker) and utensils. Essentially, the concept was: "Cook it for yourself and eat as much as you wish."
I joined the crowds (mostly multigenerational Laotian families) and enjoyed my only meal in Vientiane.
Exploring Nong Khiaw
My next destination was Nong Khiaw, a mountain town in north-central Laos. Situated on the Nam Ou river, it offers views of steep limestone cliffs and gives access to many activities: hiking in mountains, visiting various ethnic villages, taking boat tours, kayaking, exploring numerous caves.
The nearest big city with airport is Luang Prabang, an old capital of Laos. A number of companies offer inexpensive short flights (under 1 hour) from Vientiane to Luang Prabang, but bear in mind that all of them leave in the morning. From Luang Prabang it is 140 km / 90 miles to Nong Khiaw, and the actual driving time is about 4 hours. There is a public minivan leaving daily Luang Prabang for Nong Khiaw at around 10 am, but my plane arrived at around noon and the only option to travel the same day was to hire a private car with driver. My guesthouse in Nong Khiaw arranged it: $75 is not cheap (by Laotian standards), but given actual distance and my time constraints, it was a right choice. I arrived in Nong Khiaw at around 16.00 / 4 pm and checked into Arthith Guesthouse. For under $ 20, I had a huge room with hot shower, unlimited coffee and tea, and the balcony with excellent view of surroundings.
As you can see, the Arthith Guesthouse is strategically located: right in the middle of the town and by the bridge connecting two parts of Nong Khiaw.
The guesthouse is owned by a cheerful lady named Eid. Always with a smile, she helped to arrange transfer, ticket back to Luang Prabang, and, most importantly, connected me with reliable local tour guides. If you go to Nong Khiaw, Arthith Guesthouse is a place to stay. You can reserve it on Booking.com or via WhatsUp directly with Eid: +856-20-97-007-603.
After check-in, I still had couple of hours of daylight. The best thing to do was to hike for a sunset view from the observation point called Pha Daeng Peak Viewpoint. The hiking trail begins from the main road in the town, and it is well marked, as many people go there every day. Yet, it is slippery and steep: so plan your time accordingly. In my case, it has taken about one hour to arrive there, and I was rewarded with 360 degree view on Nong Khiaw and surrounding mountains. Clearly, being there by the time of sunset was an additional bonus.
And then it was time for dinner. Eid suggested "Coco Home Bar and Restaurant" which is right next door to Arthith Guesthouse. I went there and was not disappointed. My first meal in Nong Khiaw consisted of two local specialties: seasoned dry riverweed (very tasty and crunchy) and fish larb: cooked river fish chopped and mixed with many herbs.
Long story short, I ended up eating at Coco Home Restaurant all three nights in Nong Khiaw. Not only food was tasty and nicely presented, but the restaurant's owner, Sebastian, was a great fellow to talk to. An expat from Switzerland, he has an extensive knowledge of the local life, but from the perspective of a Western person. Which is always helpful for the travelers.
And I also liked that Coco Home was an open-air restaurant, where patrons dine on covered verandas with the view on the river and mountains.
The next morning, weather did not look good: it was windy and cloudy.
But the day – a combination of boat trip and hiking – was planned already, and by 9.00 I was on the river with a group of 5-6 people from various countries, who were on the same tour. In couple of hours, the skies cleared and by the time our boat arrived to the first stop – the village of Sop Keng – bright sunshine replaced clouds.
The first destination of a hike was Yensabai Organic Farm, a combination of a family compound, a farm, a coffeeshop, and a homestay. To describe this place: think about commune which attempts to live sustainably and be fully self-sufficient; a commune, where some members live permanently (extended Laotian family of the owner, a local man named Xay) and some members come-and-go (visitors from around the globe).
Some of people visiting and staying at the farm simply hang around, but most volunteer with various chores ranging from the work in the garden to baking pastries and serving coffee to the day visitors like our group was. If you like to learn more about this quite interesting place or go there, check out their website: http://www.yensabaiorganicfarm.com, yensabaifarm@gmail.com When we arrived to the farm, we found four girls – all from various countries – staying there and all seeming very happy.
Being properly recharged with the strong coffee in the farm, our group continued hike through the fields: the landscapes were truly captivating and welcoming.
Our final destination on this hike (overall, slightly more than one hour) were Tad Mook Waterfalls, a good place to relax, have a picnic lunch, and even go for a swim in a pool under waterfalls.
And then we walked back to the boat fully enjoying and appreciating this great day.
Yet, the disappointing news expected us when we returned to the boat. The original plan was to continue travel to the town of Muang Noy which is known for its hand-weaving and textiles. But the water in the river was low and the captain decided to return back to Nong Khiaw. Nevertheless, it was a good journey. Back in Nong Khiaw, wandering around the town, I stumbled upon this massage saloon, decided to check it out and had an excellent two hours long massage.
It was time for dinner and I returned to Coco Home Bar and Restaurant for another delicious meal: home-made and freshly backed vegetable spring rolls and stir fried shrimps with mushrooms and vegetables.
The next day was a very special day. In introductory section of this post, I wrote about different ethnic groups living in Laos. One of them are "Khmu" people, the indigenous inhabitants of northern Laos. Comprising about 11% of Laos total population, Khmu are sometimes referred to as the "first people" of Laos to indicate their deep historic roots in this country. Twice a year, Khmu people in Laos have their national festival. At that time, a number of Khmu villages are selected to host celebrations and ceremonies. By chance, I happened to be in Nong Khiaw exactly on a day of such festival and luckily one of the Khmu villages hosting festivities was only about 20 km / 12 miles away from Nong Khiaw. Sure enough I went there. The first thing I saw on the side of the road, even before entering the village, was the man who was cooking something on an open fire and in a huge pot.
As it turned out, this was famous Laotian noodle soup. Full of various ingredients and flavors, served together with numerous condiments, noodle soup is the most common road-side dish in Laos. It was morning and this fellow was essentially serving breakfast for those families who came – some driving long distances – from other villages to partake in the festival. Then two young girls in bright festive clothes approached me and led to the village.
The procedure of joining the festival was walking through the gates, giving some (purely symbolic money), and drinking a small glass of Lao-Lao, a strong Laotian moonshine. I followed, of course, all requirements.
The first thing which I saw were some men sipping something through the bamboo straw from several vessels which appear to be full of some grain. It was a young, semi-fermented, slightly sweet rice-wine.
I was invited to join and the experience was fairly pleasant.
Right next to this "wine-stand," three men performed some sort of music using instruments which were not familiar to me. The music was not exactly to my liking, but definitely added to the overall atmosphere.
Another activity – mostly popular with children – was a board game similar to dart. When I approached the crowd, I discovered one more non-Laotian person at this festival: the tall fellow was – similarly to me – the tourist, a Romanian living in the USA.
In an hour or so, everyone gathered around village square and the dancing performance began. To me, it was the best part of the festival. Bright clothes, various age of dancers, elaborated performance: the show was great.
Predictably, each festival – and village festival in particular – has "eating part," and this was not an exception. Under huge tent, dozens of tables were placed. Each table has some assortment of pre-arranged dishes. But in addition, the families sitting at the tables have also brought their own supplies.
I, and my fellow Romanian traveler, were invited to join one table and we did without hesitation. I enjoyed pretty much everything from the table, except one item: apparently, Khmu people also eat rats, but I decided to avoid this particular dish.
After about one hour, it was clear that the eating will probably last until the end of the day, and I decided to leave. One more destination was waiting. On the way back to Nong Khiaw, I visited Pha Thok (also known as Pha Kuang) Caves. The caves are on the side of the mountains and in order to visit them you need to climb several long flights of stairs.
The effort to come to the caves pays back. In addition to impressive stalagmites and stalactites accompanied by the view on surrounding valleys, the caves also host a museum of Viet Kong resistance movement. Indeed, during the war in Vietnam of 1964-1973, they were used by the Northern Vietnamese partisans as a base and hideout place.
When I exited caves and returned to the floor of valley, it was almost sunset time. No one was around and the sense of serenity and peace was overwhelming.
Back in Nong Khiaw, I went to say "Good bye" to a person who arranged all my activities during these two days. Thong, a young local man, has recently started his own tour agency and I wish him all the best possible luck.
If you will visit Nong Khiaw and need a good guide or any tourist service, go to Thong. Here is his contact – via WhatsUp- information:
The last order of business this day was another tasty supper at Cocon Home Bar and Restaurant. This night, before parting with Sebastian (the owner), I had a flavorful mushroom soup and roasted vegetables.
Next morning, I left Nong Khiaw and headed (by public bus) to the last destination in Laos: the old capital city of Luang Prabang. But I knew already that I will be back in Nong Khiaw, as I liked very much the town, surrounding nature, and people who live there.
Luang Prabang: the Old Capital and Ultimate Destination in Laos
If someone's trip to Laos would be limited to just one destination, then it should be the city of Luang Prabang. Literally meaning "Royal Buddha Image," Luang Prabang was the capital of the Kingdom of Laos until Communist regime took over in 1975 and moved the seat of government to Vientiane. Located on a peninsula formed by the confluence of the Nam Khan and Mekong River, the historical center of Luang Prabang was recognized in 1995 as a UNESCO World Heritage Site. Its unique and remarkably well preserved architecture, religious sites and cultural traditions emerged from a blend of historical developments over several centuries, including the French colonial influence during the 19-20th centuries. Luang Prabang remains religious capital of Laos: numerous Buddhist temples and monasteries are intertwined with city's visual appearance and everyday life. But it is not only religion and history that draw here visitors and make Luang Prabang a desirable place to live for many expats: the city has vibrant street life, interesting art galleries, colorful markets, gourmet restaurants, and much more.
Choosing where to stay in Luang Prabang is important for overall experience of being there. On the one hand, the historical center will give you a sense of being part of the city's vibrant life. On the other hand, however, the hotels on one of the major streets can be noisy. My recommendation is to book a hotel or guesthouse on Khem Khong street which is also an embankment of the Mekong river. It is only 2 blocks away from the main road bisecting the city, but is much quieter and with many trees creating a relaxed and visually appealing atmosphere.
My choice was "Apple 1 Guesthouse." I found it on Booking.com, liked the reviews (also good reviews on Google maps), and booked their very best room (private bath, air-conditioning, small balcony, refrigerator) for about $35 per night. And it was a good investment. Not only location and accommodations were good, but the owners were genuinely welcoming and helped with all local arrangements: tickets, restaurants, finding a driver to take me out of Luang Prabang, and much more. Big THANKS goes to Jimmy (a Laotian, who grew up in Australia) and his wife for my time in Luang Prabang.
After settling in Apple 1 Guesthouse, I went out for both a walk and something to eat. Joma Bakery on main street attracted my attention. Inside, there was a great selection of pastries and sandwiches, but I was sold on a very good looking pumpkin pie.
With a sizable piece of pumpkin pie, I walked back to the embankment of Mekong river and settled in DaDa Cafe which offers a variety of coffees grown in Laos: both for tasting and purchase.
DaDa cafe has tables right by the river and this is where I enjoyed my – equally excellent – pumpkin pie and coffee.
After lunch, I walked along the Khem Khong road (the embankment) until the place where Nam Khan river flows into Mekong river. It is a good walk to see examples of the houses built in French colonial epoque.
Besides old mansions, there was one more reason for walking on Khem Khong street. At its very end, at the confluence of Mekong and Nam Khan rivers, there is a rickety bamboo bridge across the latter. Walking on it was fun.
Most importantly, from the other side of the bridge, one can get a good view of two rivers' merging with one another.
As noted, Luang Prabang is full of Buddhist temples and monasteries. The first one that I visited was Wat Pak Khan which is very close to the bamboo bridge. I heard bell ringing and wanted to find out what the reason was. As it turned out, young – really children – Buddhist monks were practicing the art of bell ringing under supervision of a senior priest.
No one was inside of Wat Pak Khan main temple, and I sat there for a few minutes enjoying cool air, peace, and solitude.
Very close to Wat Pak Khan, there was another monastery: Wat Khili. It hosted an interesting photo exhibition depicting various meditation practices. I spent about one hour there looking at the pictures made in different times and in different locations, but all on the same subject: meditation.
Walking along the Sakkaline Road, the main street of Luang Prabang, you will see a lot of Buddhist temples and monasteries. I visited a few of them and my two favorites – in terms of both architecture and overall atmosphere – were Wat Xiengthong and Wat May Souvannapoumaram.
A place which you inevitably will visit while in Luang Prabang is Phousi Hill. Accessible from the very center of the city by hiking and climbing several hundreds of stairs (not very difficult though), Phousi Hill offers sweeping 360 degree view on Luang Prabang and its surroundings.
Also, another "must visit" site on Phousi Hill is a huge (something like 2 meters long) Buddha's Footprint. Check it out:
Walking back, down to the city, I saw this plank affixed to the trunk of tree and thought: "Indeed, this is a very good point:"
A must visit place in Luang Prabang is its colorful night market. This is definitely best place – in terms of variety of choices and prices – to buy various souvenirs and folk crafts.
Shopping for arts and crafts at Luang Prabang night market can be easily combined with dining under the stars. Numerous vendors cook and sell all possible kinds of foods, while dozens of tables are put right on the street in the middle of market and offer comfortable and casual sitting.
My favorite food stall was the one offering a variety of vegetarian dishes for about $1.5 per plate.
One more tip for people who visit Luang Prabang and look for a bottle of a good wine. Very close to the night market, there is a store called Mekong Minimart. It has very unassuming appearance, and inside you will find a typical selection of a "little bit of everything." But go to the back of the store. Beyond glass door, there is a real wine cellar: a huge selection of wines from various countries are on display and available for purchase for a very affordable price. I never found out the origins of this "secret wine cellar:" it appears that some bottles were smuggled into Laos without paying custom taxes, etc. Bottom line is that it is great place to shop for wine in Luang Prabang.
I like sparkling wines and bought several bottles of Cremant de Bordeaux.
If you have more than one day in Luang Prabang, you must go to see (and possibly swim in) the gorgeous Kuang Si cascades and waterfalls. They are about 30 kilometers / 20 miles to the south of Luang Prabang, and it takes about 1 hour by car to get there. Numerous tourist agencies in Luang Prabang offer inexpensive tours to the Kuang Si. The problem is that waterfalls are very popular among visitors and the place can be very crowded. The best time to visit is in the morning, no later than 9.00, before the buses with tourists began to arrive.
In order to do so, you either need to rent a scooter/motorbike or hire a private driver to take you there. I opted for the second option and it was not very expensive: something about $40. We arrived at around 9.00 to the park, parked the car, paid entrance fee and boarded small electric train which has taken us to the beginning of hiking trails connecting various waterfalls. But before coming to waterfalls, one more attraction awaits you: the sanctuary of Black Asian bears.
They are small (like big dogs), very cute and it is a lot of fun to watch them.
And then, past Black Bears' sanctuary, a chain of interconnected cascades and waterfalls begins. Assuming that there are no (or very few) other visitors, this place is a truly visual paradise.
My understanding was that there is no prohibition on swimming at Kuang Si waterfalls, and I decided to give it a try.
The experience of swimming at Kuang Si was great: very refreshing and also it felt like being in a natural jacuzzi.
Unfortunately, by 10 am, the waterfalls park was already full of visitors and we headed back to Luang Prabang. One more attraction awaited us along the road: the buffalo farm which produces ice cream and variety of cheeses made out of buffalo milk. To the best of my knowledge, this is the only place in Laos, where domestic cheese is made.
I did not care much about the ice cream, but wanted to taste their cheeses and went through the entrance gates inside the farm.
A nice lady, Susie, an expat from Australia and the head of the farm, met and greeted me and offered to take on a formal tour of the farm. But my time was limited, and I simply asked about cheese tasting. A plate with samples was brought to the table in covered gazebo and I ended up buying a few – vacuum packed – pieces of buffalo feta which was my favorite. All in all, very cool place to visit and to learn about its history and future plans. If you are interested or will plan visit there, here is farm's website: http://www.laosbuffalodairy.com
This was my last full day not only in Luang Prabang, but also on a trip to Laos. For the final dinner, I wanted something special. My choice was a restaurant called Tamarind: it is a combination of a cooking school and restaurant. The food served there is made out of locally sourced products, and the dishes are Laotian by origin, but with various interesting innovative "tweaks."
Tamarind has several sample menus with assortment of the small portions of various dishes, and I have chosen a vegetarian set. The whole experience: the knowledge of servers, flavors of food, presentation of dishes were excellent and I only regretted that I cannot return tomorrow.
The next morning, I needed to be at the airport at around 9.00. There was still time for one more experience which is the "specialty" of Luang Prabang: the daily alms giving ceremony. Every early morning (before sunrise), Buddhist monks from the various monasteries walk through the streets of Luang Prabang collecting alms – the food donations offered to them by the locals and visitors.
My plane to Bangkok (there are several direct flights from Luang Prabang) left on time. In Bangkok, I changed for a flight to Frankfurt, Germany. The air-company was Qatar Airways which was awarded a designation of the "Best Air-Company of 2022." It was Christmas eve: the plane was pleasantly empty, and even in economy class the service was top-notch with stewards serving Champagne and very decent food.
This was the end of two-weeks long trip to Laos, but I knew already that I will be back to this country – the country of diverse nature and cultures, but universally hospitable local people.